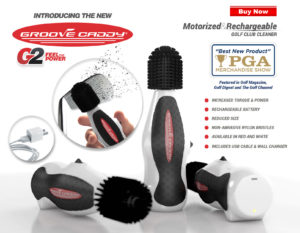 Groove Caddy is the NEW, innovative way for golfers to clean their golf clubs. It is hand-held, has a 1,000 RPM motor, a RECHARGEABLE lithium-ion battery and custom, non-abrasive nylon bristles.
Each unit includes an entire kit and can be used before, during and after a round of golf or practice session. The Groove Caddy is a revolutionary product and it is the easiest and fastest way to clean golf clubs!
The Groove Caddy will maximize golf club maintenance and performance. The Groove Caddy is engineered to polish the grooves of the golf club more effectively and quicker than a manual brush or towel – no more manual scrubbing. The club grooves make contact with the golf ball and have a direct impact on accuracy, distance and spin. The Groove Caddy also makes the perfect golf gift.
Get in the Groove…with Groove Caddy!
Product Features:
Hand-held
1000 RPM Motor
Rechargeable Lithium-Ion Battery
USB Cord & Wall adapter
Non-Abrasive Nylon Bristles
LED Battery Indicator
Rubber Grip
Easily Stores in Golf Bag
Kit Includes:
The Groove Caddy golf club cleaner
Portable USB Cord & Wall Charger
Carrying Pouch which easily stores in golf bag